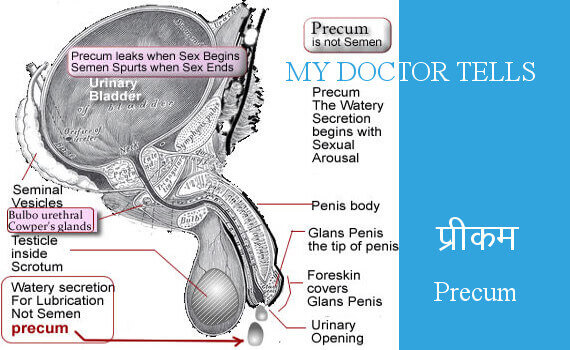 precum
Last reviewed April 13, 2015
Last updated June 24, 2014
What is precum
Click to see picture PrecumLiquid coming from penisPrecum pre-ejaculate is liquid coming from Cowper's gland. This pre-ejaculatory liquid is not semen.

Pre-ejaculate is watery colorless slightly sticky fluid that oozes out of penis during sexual excitement. Pre-ejaculate is not semen. People often get scared and immensely worry due to the wrong belief that semen has discharged before sexual intercourse.
Excess release of precum does not cause any harm.
Precum is not semen
Why does precum come
Nature has designed the discharge of pre-ejaculate to act as lubricant.

In both male and female such watery discharge happens when sexually aroused. Sex means friction. What a smart way thing? God has designed this lubricating fluid called pre-ejaculate to come out at the beginning of sexual activity.

Pre ejaculate also acts as acid neutralizer. The acidity in urethra due to urine and the acidity of vagina are neutralised by precum.
Precum has a role in coagulation of semen.
Importance of precum
Pre-seminal fluid is lubricant as well as acid neutralizer.
When you wear a condom this pre-ejaculate is not available for lubrication. So all condoms manufactured now come with lubricant in it. This shows how necessary is pre ejaculatory fluid for enjoyable sexual act.
When does precum come
This pre-seminal fluid or pre-ejaculate or pre-ejaculatory fluid or Cowper's fluid comes during sexual arousal. This may be when you are sex chatting or doing foreplay.
प्रीकम
सेक्स की उत्तेजना शुरु होते हि जो चिपचिपा, पानी जैसा लि‌क्विड लिंग से निलने लगता है उसे प्रिकम कहते है. यह सेक्स क्रीडा के लिए उपयोगी है. लडकी अौर लडका दोनो मे यह निकलना आवश्यक है.
.
प्रिकम धातु नही है|.
धातु (सिमेन) वह है जो सेक्स मे उच्चतम भाव आनेपर पिचकारी कि तरह निकलता है अौर सेक्स पुरा हुआ यह अनुभव होता है
सेक्स के शुरु मे निकलता है वह प्रिकम है
सेक्स के अन्त मे जो निकलतां है वह सिमेन (धातु) है.
दोनो के ज्यादा जानेपरभी हानी नही होती है |
Other names of precum
Other names are pre ejaculatory fluid or pre-ejaculate or pre seminal fluid or Cowper's fluid.
From where does precum come
Cowper's gland (see in the picture above) secrete watery fluid. Bulbo urethral glands (Cowper's glands), glands of littre release this watery fluid. Preejaculatory fluid is also called precum or pre ejaculate. This is not semen.
Can precum cause pregnancy
Some evidences have shown that pre-ejaculate does not contain sperms. (Study by Killick SR, 2011)
A study by Jones, R.K., Fennell, J., Higgins, J.A. and Blanchard, K. (2009) shows that precum does not contain sperms and in fact coitus interruptus or withdrawl method of contraception is as effective as condoms. This is debated. It is preferable that precum should not come in contact in or around vagina to avoid possible risk of pregnancy.
Can precum cause HIV STI
Studies have found presence of HIV (the Human Immuno-deficiency Virus that causes AIDS Acquired Immunodeficiency Syndrome).
Further reading: